Just choose what you LIKE from our range: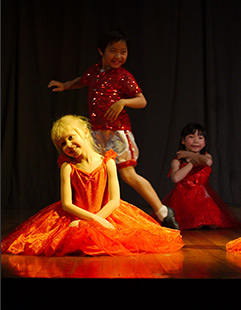 Classes for Children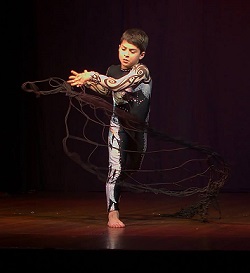 L.I.K.E. Dance Performance Course offers dance tuition for kids from 4 years old through to teenagers. During performance classes students learn new dance skills and then create dance routines with their group. All dance routines from all groups have a common overall scenario and are part of a production. Dance concerts are held at the end of each 6 month term, and all our dancers perform in front of family and friends.
Participants of the performance course learn various styles of modern dance, including elements of jazz, hip-hop, lyrical jazz, contemporary, ballet, musical theatre, as well as acrobatics.
The goal of our studio is to teach students to express their inner world through dance, music and performing. Combined, these three elements form our dance spectacles, which are full of colour and character. Become part of these exiting shows and learn to emotionally feel and love this art.
First Class is FREE by appointment.
Check out the timetable or contact us to book your complimentary trial class.
Classes for Adults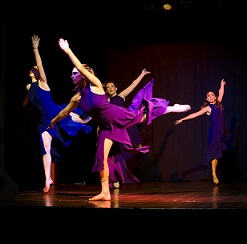 Have you always been dreaming to dance? We offer a Performance Course, which is specifically tailored for adults with various levels of experience. This is a fantastic opportunity to make your dreams come true and learn various dance styles, incl. Jazz, Modern, Contemporary, Hip-Hop and technical classes. You will also have opportunity to perform on stage in front of family and friends.
Even if you have never danced in your life, you should come and try our classes. We are confident that you will greatly enjoy them. Our dance classes for adults will become not only a step towards your dreams, but also a pleasant pastime. They will charge you with energy, help you gain confidence, grace, flexibility and improve your wellbeing. Most importantly, L.I.K.E. Dance is a community of like minded people, who create a positive
family-like environment, where you will feel at home.
Check out the timetable or contact us to book your complimentary trial class.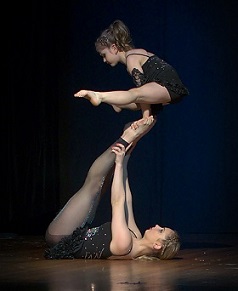 Acrobatics Classes
L.I.K.E. Dance Studio offers acrobatics for children from 3.5 y.o through to teens and adults. Acrobatics is the perfect sport to improve memory, develop strength, flexibility, discipline, balance and grace. In acrobatics, students work individually, as well as in teams.
Our primary goal is to develop the skills that will help our students to improve in dance. However, at times, our advanced teams get to compete in the various acrobatics championships.
Check out the timetable or contact us to book your complimentary trial class.

Competition Groups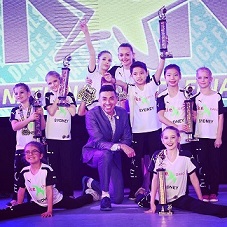 L.I.K.E. Dance Studio is a proud participant at many dance competitions and a winner of a number of prestigious awards, including Australia's Ultimate Dance Studio 2015 (Kids Artistic Revue), Sydney Top Studio 2016 (Kids Artistic Revue) and Studio of Excellence 2017 (Rainbow Dance Australia). In 2016, we were selected to represent Australia at Kids Artistic Revue US Nationals Finals in Los Angeles and we travelled together with a group of our 7-10 year olds to Los Angeles! It is an unforgettable and highly rewarding opportunity and experience for our young dancers.
We are always on the lookout for talented performers who are prepared for hard work, full dedication and commitment (8+ hours per week in dance, acrobatics, KLT and ballet). As part of our competition groups, you will have the opportunity to perform as soloists, duets, trios, small and large groups in a variety of exciting projects. Selection to the competition groups is by audition. Please contact us for more information or to express interest.
Please see our latest achievements here.
Check out the timetable or contact us to book your complimentary trial class.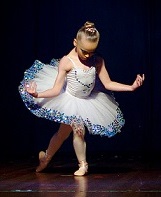 Classical Ballet
L.I.K.E. Dance studio offers classes in classical ballet to children from 8 years old, teenagers and adults. Ballet is the foundation of all dance styles and is a great art form, which also helps keep you strong and fit. Our classes focus on dance technique and optional preparation for dance examination and class awards. Regardless of the dance style you want to pursue, ballet classes are invaluable for students who want to further develop dance technique, balance, strength and flexibility.

Classical ballet classes:
For group classes, check out the timetable.
Private classes: $80-$100 for 1 hour class. Contact us for more information.
School Holiday Camp
Winter Dance Camp (beginner/intermediate)
3 - 5 July 2023 from 9AM to 3PM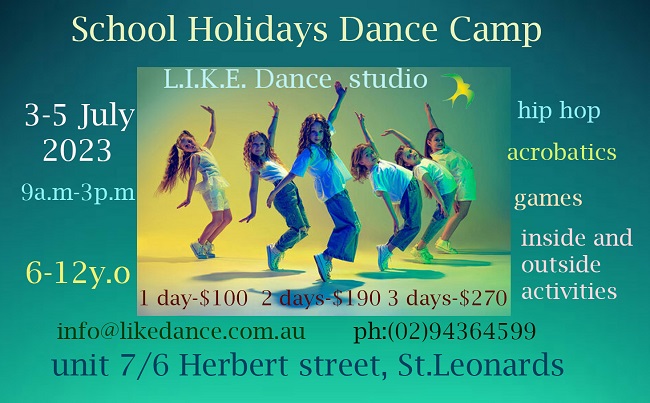 Keep your kids active during school holidays. Our fun filled dance camp runs from 9 AM to 3:00 PM daily. Learn various aspects of performing arts, including various styles of dance, acrobatics and musical theatre. Includes indoor and outdoor activities in our local Naremburn Park.
To register, please complete this form or send us an enquiry.
Winter Dance Intensive (intermediate/advanced)
3 - 5 July 2023 from 9AM to 3PM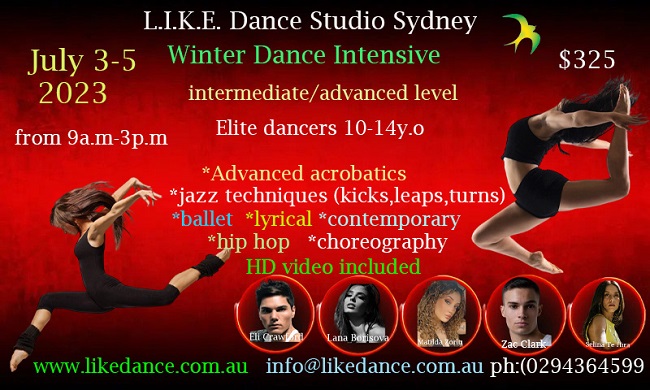 Our winter dance intensive program is designed for intermediate and advanced students who want to push themselves to newer level in ballet, jazz, hip hop and contemporary techniques as well as advanced acrobatics, to learn new skills, turns, jumps, tumbling and dance sequences. The programme is going to be led by professional choreographers with extensive experience in teaching competition level students - Lana Borisova (jazz, hip hop, contemporary, advanced acro), Eli Crawford (jazz and KLT), Zac Clark (ballet, conditioning and contemporary techniques, advanced acrobatics), Matilda Zorlu (jazz, hip hop, contemporary, advanced acrobatics). All of them are experienced not only in Australia but also in USA and Europe. Take your training to the next level this winter.
To register, please complete this form or send us an enquiry.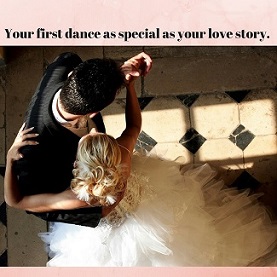 Wedding dance
All eyes will be on you as you and your partner take your first dance as husband and wife. Whether you are a pro or never danced before, we will make you look GREAT. On your first visit, we will discuss your vision, music and choreography and we will be able to estimate how many 1 hour sessions will be needed.
Please click here to watch the moments from the wedding our stunning couple Anna and Max (dancing at 5:10).
Wedding dance classes:
Private classes only, by appointment
Price: $100 for 1hour class
Contact us for more information and to book.
What our customers say:
"It was so much fun and a pleasure to be your students, you have such a bright, joyful personality that we almost felt a little sad knowing that we wouldn't be doing any more bridal dance lessons with you. Thanks so much to your great teaching, we got quite a lot of compliments on our dancing."
-Aileen and Karsen
Private dance classes at LIKE Dance Studio
L.I.K.E. Dance offers private dance lessons:
*Hip-Hop
*Jazz
*Contemporary
*Ballet
*Acrobatics
*Wedding dance
You do not need any experience to have a private lesson. Our professional teachers can make your lesson fun in the friendly and relaxing atmosphere.
Price for a private class: $80-$100 (per 1 hour class). By appointment.
Contact us for more information and to book.
Studio Rental
You can use L.I.K.E. Dance Studio floors for dance classes, rehearsals, ballet and acrobatics training, film/photo shoots or related activities. Feel free to contact us to discuss your requirements.
Please click here to watch the virtual tour of the studio.
Features:
Professional dance floor
Sound equipment
Mirror walls
Acrobatics mats
Ballet bars
Air conditioning
Great location 10 min walk from St.Leonards station
Plenty of parking options
Price:
Small Hall - 50 sq.m. $25p/h
Medium Hall - 70 sq.m. $30 p/h
Large Hall - 100 sq.m. $45 p/h
Contact us for more information and to book.
Performers for hire
Professional performance group from L.I.K.E. Dance Studio is now available for hire for speciall occassions, events, birthday parties, performances at restaurants, etc.
You can choose from solo performances, to duos and groups. Please check out our Youtube channel for a sample of performances you may expect.
"I want to say a huge thank you to you and the dancers for an amazing performance on my wedding night. My guests have never seen such a routine ever at a wedding and they were all blown away, You were such an amazing person to work with always so quick to respond to my emails and inquiries.
Thank you from the bottom of my heart and I wish you all the best.
Lots of love, Amanda"
Contact us for more information and to book.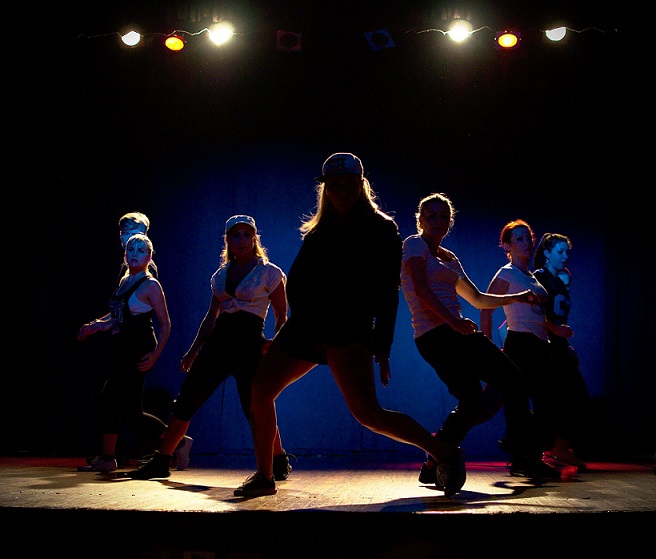 Fees and Enrolment
Your monthly fee is calculated based on the number of hours you attend each week. The more the hours, the smaller is the price per hour. Fees are calculated monthly. You can cancel at any time within one month written notice. Please refer to the Enrolment Terms and Conditions for more info.
Enrolment Form:

Get 1 Month of FREE Classes
When your friend joins L.I.K.E. Dance Studio!
What do I need to do? It's Easy!
You tell you friend about L.I.K.E. Dance Studio
Your friend comes for an introductory class
When your friend enrols: You receive a one off referral bonus to the value of your friend's one month fee!!!
Conditions of the offer:
Your friend must tell us that they were referred by YOU on their first visit.
Your friend does not have to do the same classes as you.
Your friend can choose any classes from the current time table.
Your friend must be a new student to L.I.K.E. Dance Studio.
This offer is not available in conjunction with other offers.
COVID-19 Management
Check our timetable

View and download our latest class timetable.

Meet our team

Get to know our international team of professionals.

Contact us

Enquire or book your first FREE class at L.I.K.E. Dance.